Welcome!
Twenty-six years ago, a small group of artists created the first Placitas Studio Tour, which has become one of the most highly anticipated studio tours in New Mexico. Only artists living in Placitas or maintaining a full-time studio in Placitas may participate.
Nestled in the northern Sandia foothills, we offer a unique behind-the-scenes opportunity to visit artists in their studios. Creations in sculpture, glass, steel, wood, photography, ceramics, fiber, jewelry, collage, basketry, pottery, bronze, mix-media, and painting will be available to purchase directly from the artists. Traditionally held over Mother's Day Weekend, studios will be open Saturday, May 13th and Sunday, May 14th from 10 a.m.–5 p.m.
New this year:
Placitas Studio Tour Preview Exhibit, April 28 – May 21
Offered in collaboration with the Placitas Community Library, a free month-long exhibit will represent each of the 75 artists in the 2023 tour. Please visit the library website www.placitaslibrary.com for hours or call 505-867-3355. The library is located at 453 NM Hwy 165 in Placitas.

Color-Coded Neighborhoods
Each of the seven neighborhoods on the tour will have a dfferent color in our brochure and tour map. Download the map here.
Take a lunch break in Placitas!
Visit the Homestead Village Shopping Center at 221 NM Hwy 165 for pizza at Placitas Pizza Co. or stop by the Placitas Café. The Merc's deli is open during studio tour hours and Blades Bistro is open every day but Sunday and Monday from 4 p.m. – 8 p.m. A little further up the highway at 664 NM Hwy 165, La Estrella Event Center will be offering a variety of light lunch options.

Studio Tour Brochures will be available at all studio locations and at the Homestead Village Shopping Center, 221 NM Hwy 165. Preview the artists online here.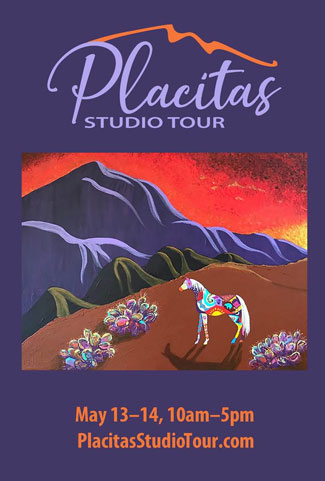 The Placitas Studio Tour wants our guests and our artist hosts to feel safe as they enjoy the 2023 tour.
Many artists have adjusted their usual studio spaces to accommodate greater distancing, and all indoor studios will follow the current New Mexico Public Health Order. 
Let's work together to keep our communities healthy.